Anything UNDERLINED is a link!
Painting by Laurie Holman (Class of 1981)
Visit Laurie's new Web site @ www.laurieholman.com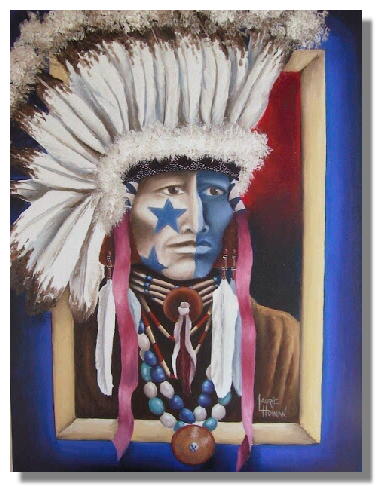 This beautiful Chieftain was painted as a "labor of love", to raise money for the Debi (Ewell) Love Benefit Fund. It is done in oil, on canvas, and has dimensions of 18" x 24" and has been framed with a dark, barnwood frame.

Bidding on the above painting is now over. The Lake View Class of 1979 has purchased the painting for $250. At this time, they are planning to donate it to Lake View High School upon completion of their reconstruction.

I would like to take this opportunity to express my thanks to all those who bid on the painting; to the Class of 1979 for their generous purchase; and, most especially, to Laurie Holman for her beautiful work. I know that it will be enjoyed by generations of LVHS students.


Jimmy Marsh and Angie Williams, Mr. & Miss Flame, 1980
BEVY of BEAUTIES!

June 15, at the reunion picnic: Denise Baker, Stacy Baker, Paula Young, Tracie Bolding, Tammy Hudson, Angie Williams, Julie Yonan and Tammy Cortese
20TH CLASS REUNION PHOTOS (+ MUCH MORE)
8/28/2005 Photos are available again!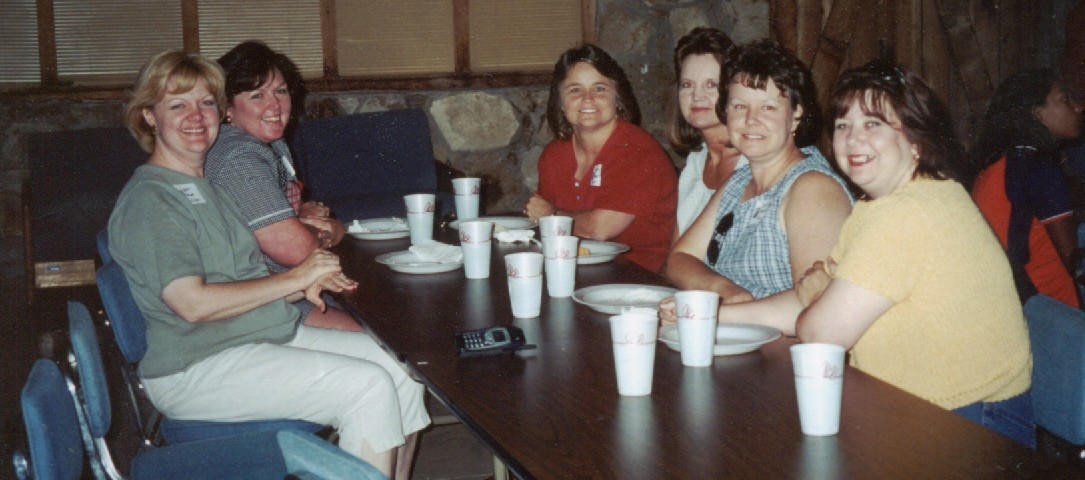 What are you looking most forward to about the reunion?




Send

MultiVotespowered by Multicity
Chattin' at the picnic:

(l-r) Laurie Boling, Kathy Martin, Tammy Stewart, Debbie McKnight, Jenifer Stockman and Edna Boehm
Kipp Rathmell, Lonnie Carlile, Bobby Beeson, Christy Harris, Kent Corder, Jimmy Marsh, Stacy Baker and Teddy Untermeyer, golfing at Quick Sand, reunion day.
Hello! This is Christy, formerly Harris, of the Lake View Class of 1981. Our 20th class reunion is now just a memory. For those of you who did not make it, let me tell you...you missed ALL the fun. For those of you who were there, but, for one reason or another can't recall what went on, I'll give a recap:

The Picnic:

Many showed up for the picnic on Friday night with their families. We could not have selected a better place to hold this event than the ASU Lake Facility. The kids were able to swim, play ball, and play on the playground. I heard there was even a fish or two caught. At one point in the evening, I saw Steve Hernandez and Dub Shelton passing the football to eachother. Oh, the memories! Steve commented the next day that he thought he threw his back out. Several of us had spent time earlier that day, making sandwiches, peeling eggs and cutting up veggies. There was plenty to eat. I had to be told who John Adney and Tina Winans were...(both looked great)!

The Golf Game:

Saturday morning, many of us were up and out, bright and early for a round of golf at Quick Sand. The sandtraps at that course proved to be quite a challenge for several of us. It was a beautiful day for golfing. Most of us hung around for a while afterwards, counting out gains and losses, and visiting. Nothing like several gallons of beer to get everyone "prepped" for the evening's event.

The Decorating:

At 4 p.m., several showed up to help decorate. That job was made even more interesting by the fact that we had to help the people from the quilt show, held earlier, break down their displays and load them in their vans. The decorations finally got up, and they looked great. Extra thanks to Steve Mandile and Tracie's husband Harold, the only men who showed up and helped.

Evening at the Cactus:

The evening event began at 7 p.m. with food, drink and lots of conversation. Many old acquaintances and friendships were renewed, and we all checked out what everyone was wearing. It was nice seeing all the guys spiffied up, and the girls looking as beautiful as ever. EVeryone was thrilled that Mrs. Barker and Mrs. Renfroe showed up. Thanks, ladies! You made our evening.

Ted Untermeyer and Kent Corder were the evening's emcees. After a welcome, Orlando Hernandez gave a "stand-up comedy routine" on the way things were back in high school. He was hilarious!

Next up was Coach Petrick, who also shared some funny memories and told some "good ones" on Jimmy Don and a few others, and of course,he talked about the game where we beat Brownwood 3-0. (Thanks for showing up, Coach and Mrs. Petrick. It was an honor)!

Next, Steve Mandile graced us by playing his guitar and singing two songs that he wrote, both recorded by Tim McGraw. Kent remarked afterwards that many of us have followed Steve's career with great pride. This is true. After the songs, Julie Yonan, (looking like she stepped right out of the yearbook!), shared some memories from our school days, as well as some insights on who we are now.

Kent and I presented the "Red Hot Reply" award to Mark Alden for sending his reunion confirmation in first. We presented the "Slow-poke" award to Evelyn Stewart for sending hers in last; However, I think she had to hand it over to Toby Allen who didn't confirm until thirty minutes before the reunion,and showed up about 10:30, after driving in from Lubbock. We also gave awards for the farthest traveled to Sam Harding and Julie Yonan, who both came in from Florida. Many came in from out of state, and I want to thank them for their efforts.

Lastly, we all stood to sing the school song. I thought the program was perfect. Thanks to all who contributed. After the program, 1981'er and deejay Tim Wagner kicked off the dancing with music from the 70's and 80's. You did a great job Tim! Thanks!

I want to thank everyone who did so much work getting the reunion together, especially Angie, Denise and Teddy. I want to personally thank Orlando Hernandez for the lovely gift he crafted and had presented to me during the program, a diamond and sapphire ring. I will wear it with pride, remembering all my dear friends and classmates from the class of 1981.

If anyone has pictures you would like me to add to the site, please email them to me or send them to me at home. I can scan them and return them to you.

See you all at the next one! Hope you all keep in touch, and keep your addresses, phone numbers, and email addresses updated!

P.S. Re: Our class financial situation

Angie reported that, after collecting the last $50 check at the end of the night, we broke even. She and Denise will close out that account, and we'll start from scratch next time. Many people contributed extra to help out, too many to name, and I don't want to exclude anyone. I will add that Danny Franco paid for our decorations. Eat at Franco's, and tell Danny thank you if you see him!
In fond memory of Coach Ben Norton, (January 24, 1938-January 16, 2002), who served as a coach, mentor and friend to many of us at Washington, Edison and Lincoln Jr. Highs, and at Lake View High School for 37 years. His gentle spirit and loving friendship will be greatly missed.
I have fought the good fight, I have finished the race, I have kept the faith. Now there is in store for me the crown of the righteousness, which the Lord, the righteous judge, will award me on that day, not only to me, but also to all who have longed for his appearing. 2 Timothy 4:7-8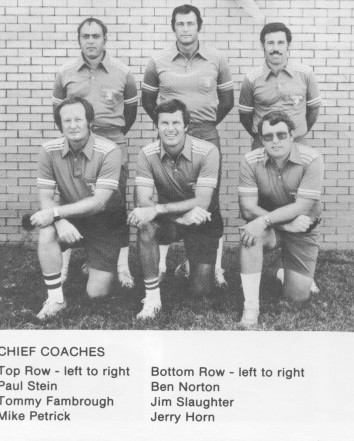 1981 Coaches: (Bottom l-r) Ben Norton, Jim Slaughter and Jerry Horn (Top l-r) Paul Stein, Tom Fambrough and Mike Petrick